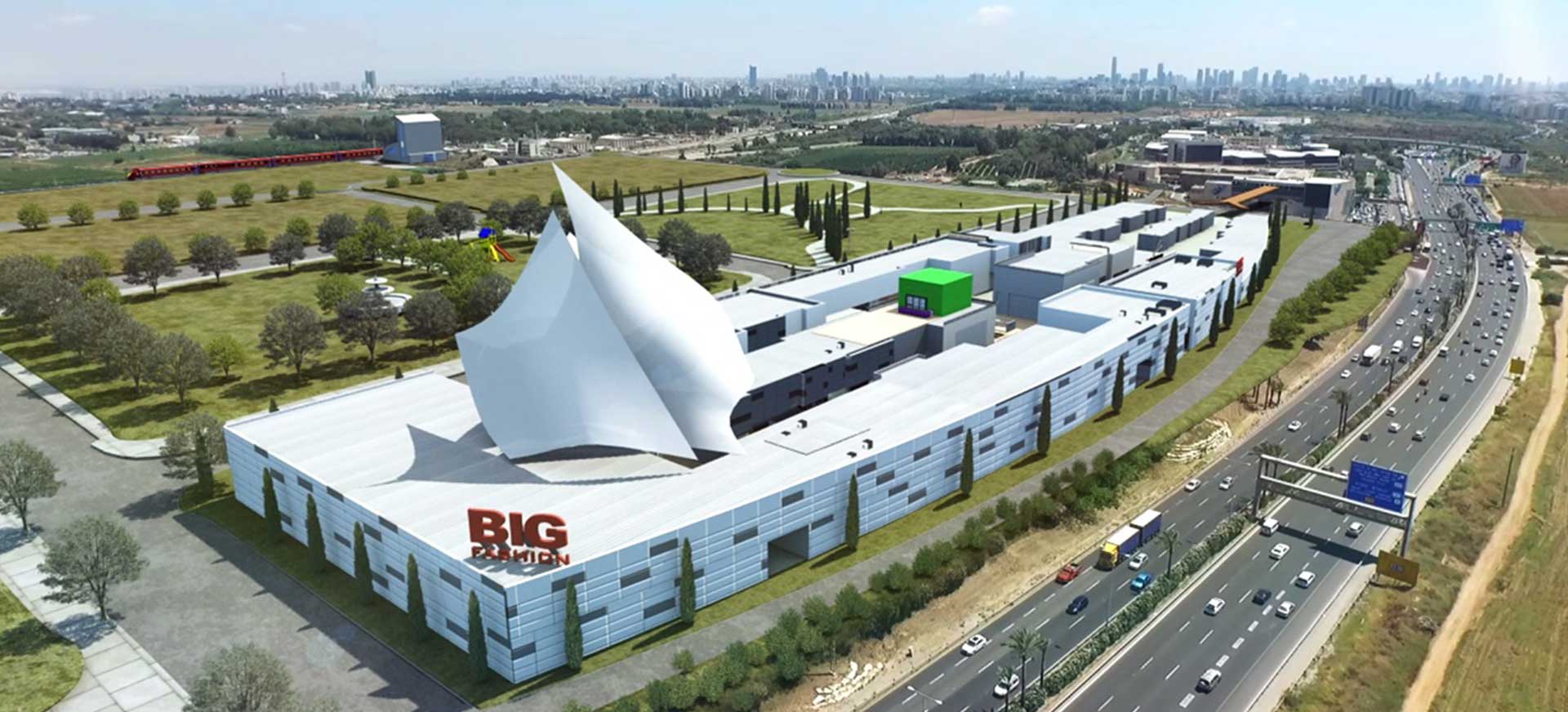 ---
This is BIG Group Shopping Centers' flagship project to be built on land purchased at a value of 180 million shekels.
In the preliminary stage, the complex, which will adjoin the Cinema City complex, will include approximately 25 thousand sqm of primary commercial space and roughly 75 thousand sqm of multi-level office buildings, with approximately 120 thousand sqm of underground parking containing roughly 4,000 parking spaces.
2
Office towers and open commercial space
---
Project details:
Location: Adjacent to Glilot Junction on Highway 2, in Ramat Hasharon's municipal area
Architect: Yasky Moore Sivan Architects
Client: BIG Group Shopping Centers
WAWA operations: Green building, wind analysis, environmental quality
Construction category: Commercial and office space
Challenges:
The location of the project poses two main challenges:
Substructure ventilation – The entrepreneur wanted to ventilate the substructures from west to east. The project is located to the east of Highway 2, and the prevailing wind in the area comes from the west. There is concern regarding the penetration of polluted air from Highway 2 into the substructures.
Its location adjacent to a gas station and waste accumulation – The specific location of the project called for a soil contamination survey in order to avoid building on contaminated soil.
Added value:
In order to test the air pollution level on Highway 2, wind analysis, a traffic count, and air quality analysis were conducted using models. The results of the air quality testing indicated that there is no projected deviation in CO levels, and that air can be introduced into the substructures from the west.
A historical soil contamination survey was conducted for the project as part of the environmental services provided by WAWA. The survey indicated that soil might be contaminated next to the gas station. In order to perform a comprehensive test, a soil sample will be drawn and analyzed in a laboratory. The project is currently at the stage that precedes the soil sample extraction stage.
FOR MORE INFORMATION - PLEASE CONTACT US