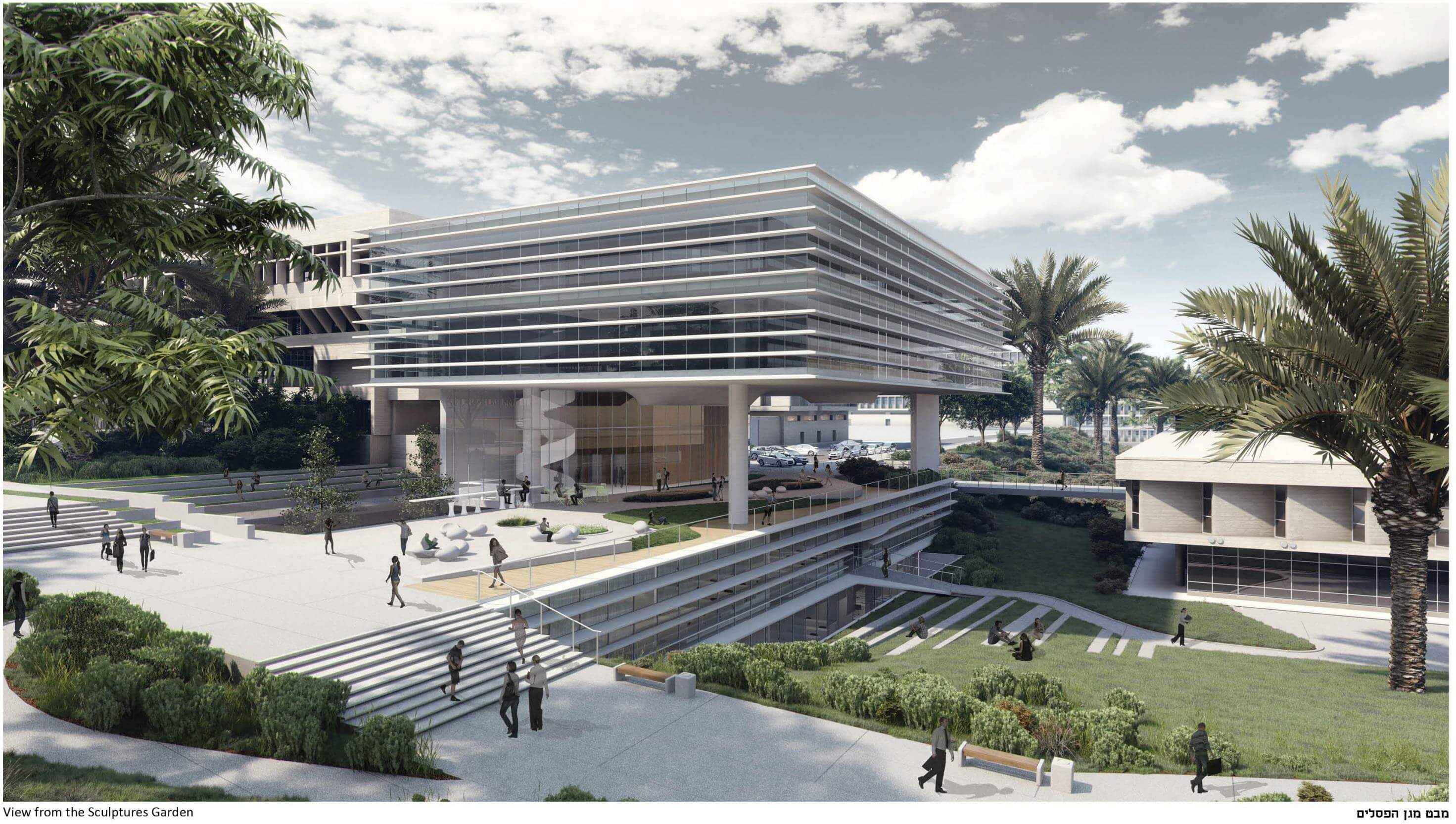 Lorry Lokey School of Management, Tel Aviv University
---
---
The School of Management building is located in the center of Tel Aviv University.
The use of a deep, dense, external, horizontal shading system throughout the entire perimeter of the building brings in optimal natural light, prevents the direct glare of sunlight, and reduces the building's interior heat burden. The windows that open eliminate the need to operate the acclimatization system in transitional seasons.
The entrance level is tall, completely transparent, and indented in relation to the upper levels so that it does not need shading. This, in addition to the inviting roofed development at the front section of the entrance, create a sense of openness and welcoming for the student body on campus to spend time in the space.
Project Details:
Location: Tel Aviv University campus
Architect: Gottesman-Szmelcman Architecture
Client: Tel Aviv University
WAWA operations: Green building consulting and certification for Standard 5281, thermal consulting
Construction category: Education buildings
Challenges:
The designed structure is a square-shaped leveled design with closed rooms for faculty members and researchers. The depth of the row of rooms at the perimeter of the floors and the dimensions of the floor create interior rooms that are not attached to the façade. One of the challenges was to provide natural light, natural ventilation, and access to scenery for the closed, interior rooms, for the open work spaces on the floors under the entrance level, and for most of the lecture rooms as well.
To prevent glare in the staff rooms attached to the building's façade and to reduce the heat burden in the summer.
Despite the large number of closed rooms – to create an inviting, transparent, pleasing building for the student body, lecturers, and visitors on campus.
Added value:
Light wells – amorphous, rounded patios penetrate and traverse the two upper floors from the roof to the bottom of the first floor - the ceiling of the exterior development area at the entrance to the building bring in natural light and cross ventilation into the interior passageways and rooms. The amorphous shape and the possibility of it raining through the holes located in the center of the floor have a biophilic effect that contributes to visitors' sense of comfort.
The two floors under the entrance level make use of the height difference, and with a wide, deep English courtyard, they create a completely open, windowed façade for natural light and natural ventilation. The patio 'descending' from the development level exposed to the sun brings natural light and natural ventilation into the center of the underground floors, and creates pleasing, inviting work and leisure spaces.
FOR MORE INFORMATION - PLEASE CONTACT US